To all of you jumping ahead to Christmas trees and holiday decor- hold up a sec!? I JUST put out my fall wreath and I'm feeling accomplished, ok!?
It's been a busy season (the good kind) of conferences, work travel, and writing projects, but I'm happily slowing down a bit for the remainder of 2018. Along with the craziness, I've managed a few quiet pockets of absolute joy to savor simplicity and wrap up in a cozy blanket of gratitude.
So what's been keeping me sane and steadfast through a hectic few months? Without further adieu, here's a glimpse of what I've been up to, things I'm loving, and plans for the new year!
MY FIVE FALL FAVORITES
Homemade hot chocolate
I've been using Taza stone ground chocolate and making it the old fashioned way- heating milk in a saucepan on the stovetop and stirring in chopped chocolate pieces until it melds into a steamy, foamy cup of deliciousness.
It's a game changer, ya'll. I've never adored hot chocolate, but it's become a regular treat in my household.
Taza is a small company based in Massachusetts that sources organic cocoa directly from farmers. Taza pays a premium price and only works with producers that respect workers and the environment.
The chocolate goes from bean to bar at their Somerville, MA chocolate factory via a hand carved, traditional Mexican-inspired stone mill. And YES you can actually tour the chocolate factory. In the meantime, purchase Taza chocolate at your local natural foods store!
---
Berry Springs Lodge
Patrick and I have resided in Tennessee nearly our entire lives, but never experienced fall in the Smoky Mountains. This year, we booked a last minute room at Berry Springs Lodge and drove over to view the fall foliage. (Just your average 60 year old retirees here!)
Apparently someone changed travel dates and we luckily snatched a room at what we'll refer to as our East Tennessee homestead from now on. No need to book a cabin ever again- this place has it ALL. Two private fishing ponds complete with fishing poles and canoes, a fire pit, daily breakfast, a barn filled with kid-friendly activities, AND the most gorgeous view of the Appalachian mountain foothills I've seen.
The owners are currently offering a $50 per night discount for donating a toy to the Toys for Tots drive. Nightly rental rates barely exceed the area average hotel price this time of year, but the ambiance, amenities and attention to detail are overwhelmingly worth the few extra dollars spent.
---
My first ever sustainable clothing brand purchase was a thrifted merino wool, Everlane mock neck sweater years ago. I've been brand loyal since. Although my clothing purchases are fewer and far between these days- I made an exception for Everlane's inaugural denim launch last year at a Nordstrom pop-up. They're amazing by the way- check out my Instagram rave here.
Everlane recently launched a new line of outwear- the ReNew collection, made from recycled plastic bottles. I'm thrilled to see companies and brands practicing innovation and creating solutions to today's global issues.
They reached out to gift me a piece from their new line since I'm part of their affiliate program. AFTER I stopped hyperventilating and fan-girling that one of my favorite brands wanted to send me a product- I chose the half zip puffer in black, but I LOVE this green color: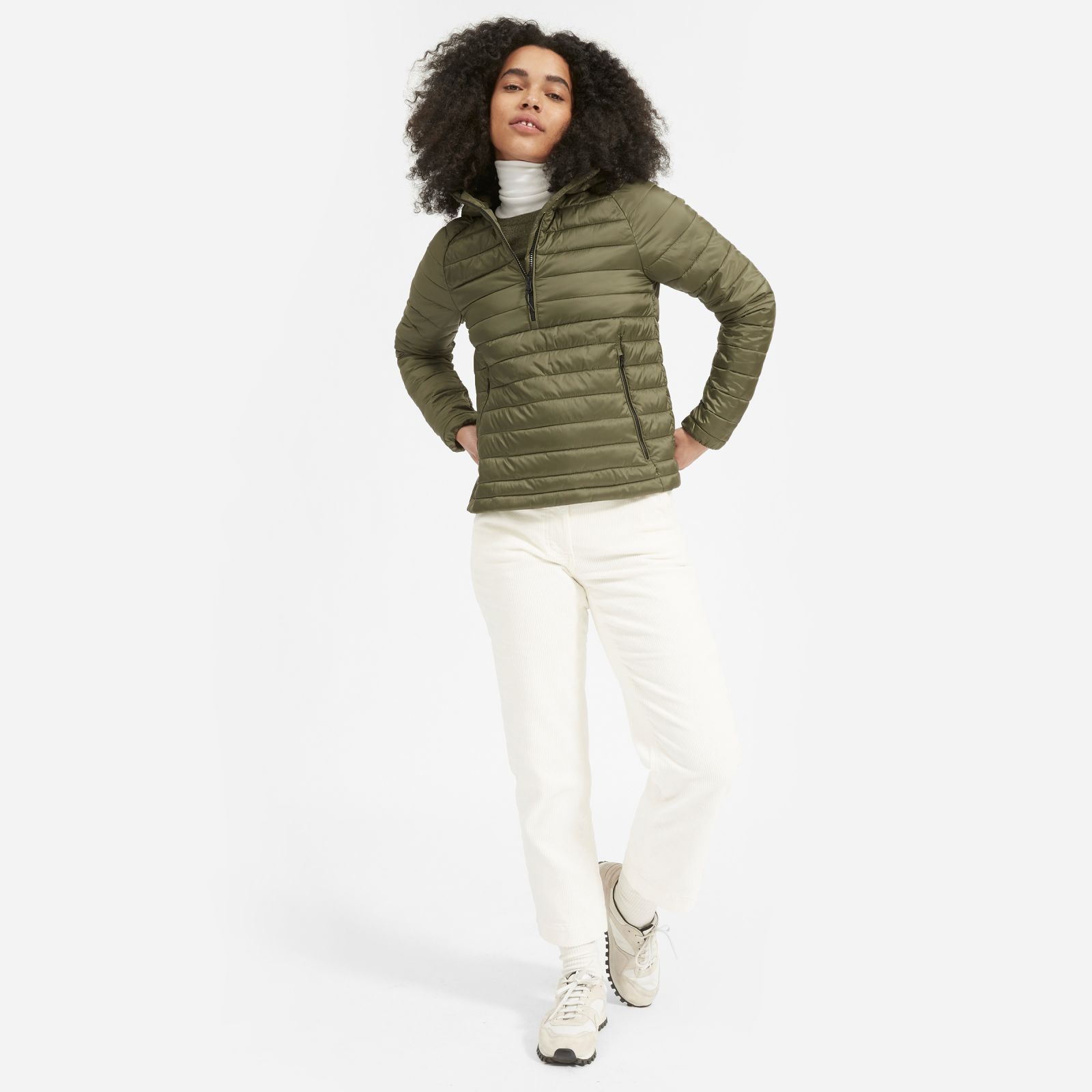 Women's ReNew Lightweight Half-Zip Puffer …
I don't know how I've made it this long without owning a light weight puffer jacket, but this one's perfection. It's 100% recycled polyester made from 15 renewed plastic bottles and is recommended for temps between 30-55 degrees Fahrenheit.
We've finally started seeing cooler weather in Tennessee, so I was able to test drive it during our hike in the East Tennessee mountains. The half zip puffer was ultra light, yet kept me extra warm. I see it on plenty of winter hikes and outdoor adventures in the near future.
Another reason to love Everlane is their commitment to removing new plastic from their entire supply chain by 2021 AND eliminating all single use plastic from all their offices and stores.
---
Frothy Monkey
Frothy Monkey is nothing new to the Nashville scene. There are five locations around the area serving up everything from coffee and bagels to wine and wagyu beef burgers.
I've spent many a morning working there recently and somehow just learned about one of their waste free initiatives that's also budget friendly. Instead of throwing out any uneaten pastries at the end of a business day, they sell them at a reduced price the following morning.
HELLO $1.25 cinnamon roll muffins! I wasn't even hungry at the time, but I scarfed down a muffin like I hadn't eaten in days. Talk about a winning business idea. I have no clue if ALL Frothy Monkeys have implemented this, but the Nations location has.
Bottom line- if you're looking for a local Nashville coffee shop with eco-friendly practices, check out Frothy Monkey.
---
Website templates by Elizabeth McCravy
Finally, I want to give you a sneak peak at what's in store for 2019. I purchased a website template from my Instagram buddy and Tennessee native, Elizabeth McCravy a few weeks ago for a MAJOR website makeover coming in the new year.
Right now, this blog is more of a journal-y site, but next year I plan to streamline it as a permanent revenue source. Don't get me wrong- I never imagined it'd produce as much income as it already has, especially with how inactive it's been this year.
Thankfully, Elizabeth has curated several customizable template options for those like me who are lacking in the design department. They're affordable and come with personalized videos and email support, as well as live assistance from the Showit platform where they're housed.
Also- Elizabeth is super cute and smiley and is always dishing out smart business and marketing ideas (without being sales-y) on her Instagram account!
I'll be launching my new and improved website in 2019, so be prepared for even more tips and hacks on saving money and wasting less in 2019! You'll have to wait for the big reveal. Until next time…
---
What are some of YOUR fall favorites?
Five Fall Favorites
archives
November 14, 2018
back